Description
Middle connectors
HDPE Pipe middle connectors are the irrigation tools that are used to connect the same irrigation pipes together because Hdpe pipes come in various lengths of 100 meters, 50 meters and so on.
Whenever supply requires pipes of longer lengths beyond the above mentioned lengths, automatically there is need to join them together thus the use of Hdpe middle connectors
More ever,Hdpe pipe middle connectors come in different sizes according to the pipe diameters to be joined. The various sizes available are the 16mm, 20 mm, 25 mm, 32 mm, 40 mm, 50 mm, 63 mm, and 90 mm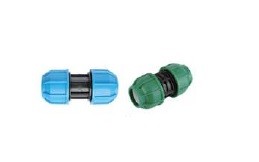 Eunidrip irrigation systems stock the above connectors which are hand fixed not like the heavy commercial joiners that are available in the market.
Types of hdpe pipe middle connectors
Butt fusion
Thermal bushing
Electro fusion
Flange
Extrusion
Bolting
Rubber gasket latching
For ease in  hdpe pipe connection at  relatively cheap Hdpe pipe middle connectors, Eunidrip irrigation systems stocks the middle connectors that use the principles of rubber gasket latching.
In rubber gasket latching the connectors is divided into four sections .i.e. the gripper, fastener, rubber seal (o ring), and the holder.
Functions of Hdpe pipe middle connectors parts
Gripper 
This is the section with serrated grip like structures which hold together the pipe after fixing.
Fastener
This is the section that slides into pipe thus pushing the o rings towards the holders so that the pipe leakages are prevented.
Rubber seal (o ring)
. O ring is a parameter that ensures the pipe is correctly and tightly fixed to the holder
Holder
This is the section where the pipes junctions meet
Hdpe middle connectors come in various colors which may include, red, yellow, blue, black and some come with purple color. Colors do not affect the functionality of the tool but it helps in identifying the manufacturers or the batch details.
Procedures in installation of pipe middle connectors  
Cut the pipe at the place to be joined to the axis and clean the pipe ends.
Clean any debris from the pipe.
Prepare the fittings in place and check the connector in terms of the cleanliness, available of rubbers and fasteners.
Place the two simple ends of the pipe placed inside couplings or accessories, so that the two pipes are in content with the central holder.
The connection system should remain in straight position for full attachment.               
Importance of Hdpe middle connectors
Green environmental protection 

non-toxic, tasteless, after strict health monitoring, belongs to green building materials, never scale, can effectively improve water quality.

Corrosion resistance

pipe middle connectors are resistant to corrosion by a variety of chemical, and chemicals present in the soil do not cause any degradation or damage to the pipeline.

No leakage

The HDPE pipe middle connection system for irrigation is manufactured at a very high standard rate where that does not perform any form of leakage, and the strength of the joint is higher than the strength of the pipes
High toughness

the material used in manufactured of HDPE middle connectors of irrigation pipes is generally hard and intact. For the uneven settlement, its adaptability is very strong and the seismic performance is good. Hence it brings about a high toughness

Crack resistance

: It has high propagation system for piping usually has some adhesive factors, which has high crack resistance which harden the material help to avoid the breaking of the pipe

Good wear resistance

The HDPE pipe connectors have good wear resistance, low wall friction coefficient, low flow resistance flexibility and strong conveying capacity which enable free wear resistance

Excellent 

The HDPE irrigation pipe can be used in a variety of trench less ways, easy to construction and installation at the field, which it's the best

Low cost

The HDPE pipe for irrigation has a Low system cost and low maintenance cost can greatly reduce project costs.

Long service life

The buried irrigation pipe is normally used for 55 years, which usually gives long time service

Recyclable, environmentally friendly

The HDPE irrigation pipe connector and materials can be reused, fully in line with the nationally advocated efficient environmental protection concept. Where that its environmentally friendly, and recyclable which it's Eco-friendly
 Cost of HDPE pipe middle connectors
Cost of the middle connectors depends with size of the pipe to be joined.  As stated earlier the sizes readily available in the market are 16mm, 20 mm, 25 mm, 32 mm, 40 mm, 50 mm, 63 mm, and 90 mm
The cost of this HDPE middle connectors ranges between ksh 25 to ksh 3500