Description
Drip valve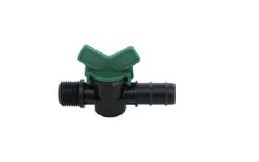 Drip valves are the connectors use in connecting the drip lines or drip tapes to the sub main line. Their uses are similar to irrigation takeoffs only that drip valve has a water controlling knob. The common usage of drip valves is to control the entire flow of water through a specific drip line length.
This off and on operation of drip valves enable the independent use of the drip line. For instance, whenever there are leakages in a given drip line length, the operator just need to identify the line with the leakages and turn off the drip valves.
Operator will always proceed with the maintenance of the drip line length while the other remaining drip lines lengths are operating normally.
Drip valves are of different sizes depending with the type of drip line the farmer decides on. The available drip valves that we stock are of 16 millimeters and 12 millimeters. These are specifications that come with drip line to be used.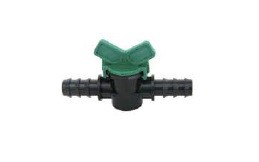 Drip line come with different colors codes. The common color codes are blue, red, yellow, black and green.
Specifications of drip valve connectors
Working pressure of 50 Kpa to 150 Kpa.
Rated water flow 1.38 l/h to 3.2 l/h
Self flushing with anti logging performance
Easy to connect and disconnect to both drip line and sub main lines.
Highly resistant to UV rays.
Commonly used with Low Density Polyethylene Pipes (LDPE) and High Density Polyethylene Pipe (HDPE).
Internal diameters of 16 millimeters to 0.75 inch.
Made of polyethylene material.
Drip valves usage
Commonly used in green houses, net houses and open fields.
When used in fertilizer application, it increases efficiency in application.
Specific types are used for matching drip line (used as drip middle connectors).
Drip valves maintenance
Frequent flushing with water to avoid particles blockages.