Description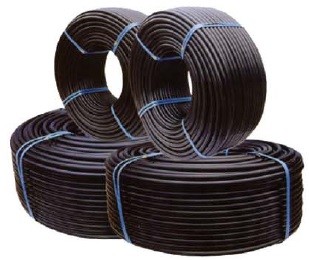 Irrigation HDPE pipes for sale in Kenya are considered, be the best choice for irrigation on various projects due to their high quality and reliability.
It is made up of high-density, polyethylene particles that are closely packed. Usually made up of high-pressure rate known as pressure normal (PN).
And of various sizes of polyethylene pipes available in the market are ranging from 16 millimeters diameter-250 millimeters diameter.
Irrigation pipes for sale in Kenya ( polyethylene) are easy to install. The commonly used methods of installation used by professionals include vibration and plow open cut.
In the above methods, no glue or any liquid is needed to join the HDPE pipe and this is usually the best method in various fields like irrigation, drainage, etc.
There are various types of HDPE irrigation pipes for sale in Kenya. these pipes include PVC pipes, PPR pipes, and polyethylene pipes (PE pipe)
polyethylene pipes are the most preferred because they have good and smooth high-density surfaces with other added advantages listed below.
Irrigation pipes are used for main pipe(secondary) sub-main pipe (primary) and laterals. Mainline conveys water from the source and distributes it to the sub mainline
The sub-main lines convey water to laterals which in turn supply water to the emitters( drip line or sprinklers).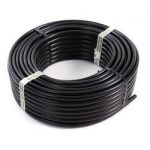 The HDPE pipes for irrigation for sale in Kenya have various advantages compared to other types of pipes where are
Green environmental protection 
non-toxic, tasteless, after strict health monitoring, belongs to green building materials, never scale, can effectively improve water quality.
pipelines are resistant to corrosion by a variety of chemicals, and chemicals present in the soil do not cause any degradation or damage to the pipeline.
The HDPE pipe system for irrigation is manufactured at a very high standard rate where that does not perform any form of leakage, and the strength of the joint is higher than the strength of the pipes.
the material used in the manufacturing of HDPE irrigation pipes is generally. For the uneven settlement, its adaptability is very strong and the seismic performance is good. Hence it brings about a high toughness
The HDPE pipe for irrigation has a high propagation system for piping usually has some adhesive factors, which has high crack resistance which harden the material help to avoid the breaking of the pipe
The HDPE pipe has Good wear resistance, low wall friction coefficient, low flow resistance flexibility, and strong conveying capacity which enable free wear resistance
The HDPE irrigation pipe can be used in a variety of trenchless ways, easy to construct and install at the field, which it's the best
The HDPE pipe for irrigation has a Low system cost and low maintenance cost can greatly reduce project costs.
The buried irrigation pipe is normally used for 55 years, which usually gives long time service
Recyclable, environmentally friendly
The HDPE irrigation pipes and materials can be reused, fully in line with the nationally advocated efficient environmental protection concept. Where that its environmentally friendly, and recyclable which it's Eco-friendly
There are various factors to consider when buying HDPE irrigation pipes in Kenya. For the first-time buyer, it can be quite confusing especially when you do not have the right information.
That is why it is always recommended that anytime that you think of buying yourself an irrigation pipe, where that is:
Type of pipe

There are many pipes in the pipe industry and for you to find the best one for your use in irrigation, you should have basic information about each type that is in the market.
Some of the irrigation pipes that you need to familiarize yourself with, it will be easy for you to select the best pipe for your use, but the best its HDPE pipe usually applied for irrigation
The materials used to come up with an irrigation pipe that you intend to buy are an important factors that you cannot ignore.
First, the materials will determine the durability of the pipes. You definitely would not be happy to spend your money buying a product that will only last for a short time. Hence, it's better to consider the material
 HDPE pipe for irrigation usually come with various prices hence that it's the best thing you identify the type of pipe and the size where it will automatically detect to know the price of the pipe you need
Irrigation pipe for sale in Kenya usually have a high durability rate with a life span of over  55 years of service which has been manufactured with high standardization
it's one of the factors usually in consideration of HDPE pipes where there are several partitions and potions in the field of irrigation.
This partition involves sub-divisions from the main pipe all through to the last point which is the last point of water emission from the pipe. These portions come in various sizes, especially sprinkler irrigation systems.
 HDPE pipes for irrigation is highly flexible in a point that it's in a position on a turning and bending in any of the position pertaining to the environment or topography (landscape) towards the place of application
Mode of chemical resistance:
HDPE pipes for irrigation a made of very high resistance to chemical resistance which up of very high chemical corrosive resist-ability which it's in a position to resist the chemical.
HDPE pipe it's of high resist-ability towards the environment, perhaps wot or cold weather and when the implement fall on or accidentally get a dent it's of high position to have the resistance depend on the gauge and the thickness of the irrigation pipe installed
HDPE pipe  installed in the site usually is often  determined majorly by the material in use, either its pipe concrete, asbestos, or natural channel as being considered when buying the HDPE
| | | |
| --- | --- | --- |
| Pipe diameter in size | Length per roll(meters) | Price per roll |
| 16mm | 100 | 1700 |
| 20mm | 100 | 3300 |
| 25mm | 100 | 3900 |
| 32mm | 100 | 5500 |
| 40mm | 100 | 9000 |
| 50mm | 100 | 12500 |
| 63mm | 100 | 18000 |